Typhoon Pablo/Bopha Response in The Philippines
March 1, 2013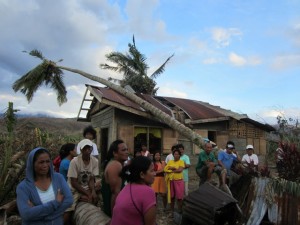 The destructive "Typhoon Pablo" (or Bopha) made landfall on the eastern coast of Mindanao early December 4, 2012. Torrential rain and strong winds toppled trees and power lines, destroyed houses, roads and agriculture, and caused floods and mudslides and forced more than 179,000 to seek refuge in evacuation centers.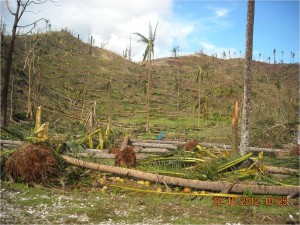 At last report, the death toll reached 1,067 with 834 reported missing and 213,000 people affected.  At least 80,000 people were left homeless.
Peace Winds Provides Relief With Local Partner
Peace Winds America, together with our Philippine local partner, Citizen's Disaster Response Center (CDRC), Philippines, distributed relief supplies in Typhoon Pablo/Bopha-affected communities in Bukidnon Province on Mindanao Island.  Our response helped families cope with the immediate impacts of the disaster and helped families struggling to recover.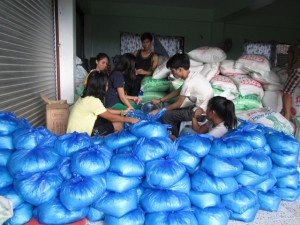 Community-wide effort to help five Communities
Many organizations focused relief operations in the Compostela Valley region.  Our local partner, CDRC, initially concentrated our relief efforts in the Compostela Valley and the Davao Oriental region.  We soon recognized that five communities in Bukidnon province received very little assistance.    We identified 500 families in two cities needing immediate attention.  CDRC coordinated the relief with community members and volunteers from a local NGO and the farmer's organization, KASAMA, packaging and distributing relief goods.   Your donations supported people in the five cities of Cabangahan, Bangcud, Campuhan, Batangan and Poblacion.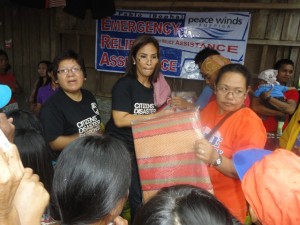 Reaching out to over 100 children with psycho-social support
CDRC provided psycho-social support for children staying at evacuation shelters.  These children had witnessed their houses being swept away by the flood and had no idea where they might be relocated.  Through counseling, including expressing their feelings through discussions and art, the children could better understand their current situation and be less anxious.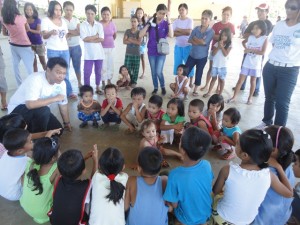 What's in a relief package?
The PWA relief package contained basic foods items which could sustain an average family for one week at the evacuation centers.  The package included: Rice- 10kg; mongo beans–500g; dried fish–500g; sardines–four cans; cooking oil–250ml; one laundry soap bar; one blanket; and, one mattress.
For the first three weeks after the disaster, evacuees from these five communities received only three (3) kilos of rice and noodles, and three (3) cans of sardines from the government and other groups. "Christmas was so lonely, we just slept the night away," said one of the beneficiaries. The mattress and blanket PWA provided were much appreciated, as most of the beneficiaries were forced to sleep on the cold cement floor or on the benches of the gym.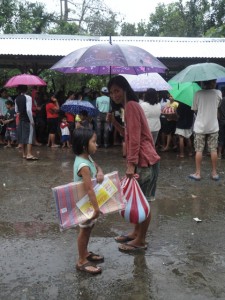 The serious situation continues
Many families who lost houses lived by the river.  They cannot go return to their home because erosion from the flood took away their property.  "We cannot go back to the area because our community is still submerged," one of the beneficiaries said.  "We badly needed shelter and food," another one added.
 Peace Winds America is concluding emergency relief operations for Typhoon Pablo/Bopha, and yet we and our local partners will continue monitoring the situation in the typhoon-affected areas.
PWA would like to extend our most sincere appreciation to those of you who supported us.  With your help, we were able to provide critically-needed supplies to 500 families.