Small Business in Kesennuma Inspires and "Hangs in There"
November 1, 2015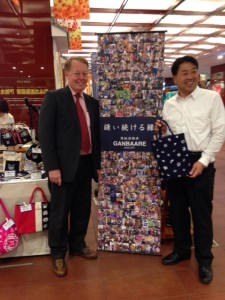 While visiting Tokyo PWA CEO Chuck Aanenson was inspired for the second time by the entrepreneurial family that bounced back after losing their livelihood in the 2011 Tohoku earthquake and tsunami.
Ganbaare (a play off of ganbare, which means "hang in there" in Japanese), the family-owned business, began as  a small workshop for those who had lost their livelihoods in the family's seaside hometown of Kesennuma.
The family and local craftsmen began making by hand durable bags, tablecloths, napkins, and place-mats.  They literally picked up the pieces left by the tsunami and re-purposed sails from destroyed boats into beautiful products.  Today they are selling their wares throughout Japan.  
Ganbaare founder Shimizu-san had a special message for PWA CEO Chuck Aanenson when they visited in October, "Thank you for supporting the recovery of small businesses Peace Winds America!"
READ MORE > about Peace Winds' work in Tohoku.