Nepal Earthquake
Timeframe: 2015-2017
In April 2015, the Gorkha Earthquakes devastated Nepal, killing nearly 9,000 people and injuring almost 16,000. The earthquakes flattened entire villages and left hundreds of thousands of people without homes. Peace Winds America provided immediate and concentrated relief efforts by providing shelter to more than 1,000 families in the Sindhupalchowk District, where the earthquakes damaged or destroyed 90 percent of homes. In late 2015 and early 2016 Peace Winds America provided 2,705 families (approximately 13,525 individuals) with materials to repair and rebuild houses damaged in the earthquake. Today Peace Winds is providing clean water systems to rural communities and asking for your support to fund livelihood training for women and girls at three community centers constructed with our Nepalese partner NGO.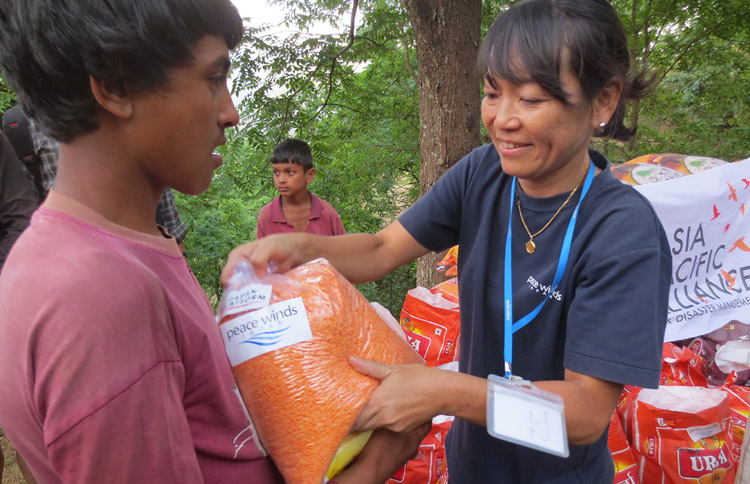 Situation
In Nepal nearly 30 percent of households are female-led, but they have often been overlooked in the recovery process. Outside Kathmandu women face numerous barriers in restarting essential home-based work. In rural Ramechhap people need access to water sources and infrastructure as they rebuild homes and communities. Girls need accessible water points and latrines so they can return to school.
Solution
Peace Winds surveyed women in earthquake-affected Bhaktapur and Kavrepalanchok districts and found their main concern to be returning to work. Peace Winds constructed three community centers with the support of Sheng Yen Lu Foundation. These centers provide a safe and supportive place for women to safely produce woven material called dhaka (Bhaktapur Community Center) and to process and market agricultural produce (Nala Community Center).
Long Term Impact
Women and girls in Nepal are hard-working and capable. Through the community centers, Peace Winds is connecting women and girls with the resources they need to restore their lives. As women directly benefit, families also advance by gaining increased financial stability, well-being, and healthier communities.