Peace Winds Approach
Our success starts with your partnership.

Your donations allows us to coordinate and collaborate with local NGOs, governments, military branches, and governments throughout the Asia-Pacific.

Preparedness is essential: Better readiness equals better response.

And a better response lowers the human and economic costs of natural disasters.

Readiness = Increase Collaboration + Build Capacity.

Peace Winds brings together disaster managers and key decision makers from across the Asia Pacific. In workshops and forums men and women collaborate, create plans, and exchange resources and best practices. After our workshops disaster managers are better equipped to handle emergencies and save lives.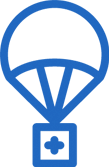 Response = Efficient & Integrated Relief, Saved Lives & Lower Costs.
We partner with our network of NGOs in affected countries to ensure that donor resources are used efficiently by those with expert knowledge of the communities we assist.