West Sumatra Earthquake Relief
October 1, 2009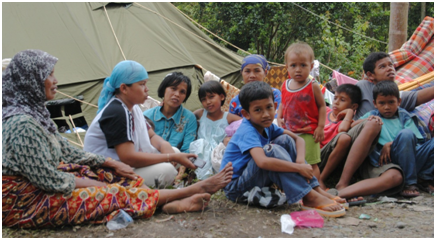 On September 9, 2009, a 7.6 magnitude earthquake rocked West Sumatra, Indonesia. Several Homes and buildings were destroyed and the casualty rate exceeded 1,100. On October 2, Peace Winds Japan dispatched two staff members who distributed emergency provisions and conducted investigations in order to develop an effective relief plan.
When Peace Winds staff explored the disaster site in Pariaman and Padang, West Sumatra, they found that although three days had passed since the earthquake, emergency provisions from relief groups had still not arrived.
Upon driving to the entrance of a village, PWJ staff asked residents for advice on where to begin exploring. After a forty-five minute walk through the mountain path, they came across a raw and dusty slope that had been affected by the landslide. The homes along the slope had been completely devoured by the landslide which left no trace of their existence. Peace Winds staff worked frantically alongside local police and villagers to rescue those trapped underneath the debris.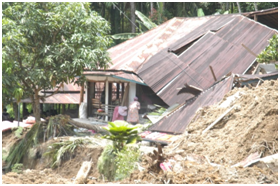 Peace Winds Japan Initial Response
In response to the earthquake, PWJ distributed food to 13 villages in Sumatra-Pariaman. The items distributed included: 21,000 instant noodles packets, 500 kg of rice, 1,440 cans of fish and 5,280 bottles of drinking water. From October 5-7, PWJ personnel purchased the food from local wholesalers and it took them two hours to deliver the supplies using trucks.
According to PWJ's study, food security was a major concern for all villages. Several villages had received only a minimal amount of private support. In particular, staple foods such as rice and instant noodles became the highest priority item for many villages. While various NGOs and UN agencies rushed to collect information necessary for professional support, PWJ built a temporary shelter to house victims until food supplies arrived.
Food distribution occurred on a daily  basis and often required relief staff to work long into the night. As the trucks arrived, villagers gathered around to help unload the supplies. Many children, who took part in the distribution process, stated that they looked forward to helping the relief effort.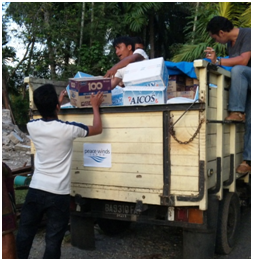 Cooperation With Indonesian NGOs
Bina Swadaya is an Indonesian NGO with over 40 years of experience in local development. It is a key actor for disaster recovery in Indonesia and has worked with Peace Winds in the past. In the case of the 2009 earthquake, Bina Swadaya consulted with Peace Winds to address two areas of focus: 1. Housing repair and reconstruction, and 2. Policy making to ensure victim livelihood in the aftermath of the earthquake. Currently, Peace Winds is working alongside Bina Swadaya to prepare the implementation of these two programs.