Seattle Mariners Salute Japanese Baseball and Tohoku Recovery
July 12, 2014
Peace Winds America, the Japan-America Society of the State of Washington, the Seattle Mariners and the Seattle Japanese community came together for a night of fun and baseball highlighting the contributions of Japanese baseball to the Mariners. For the third year running the Mariners ran a special promotion for the Salute, with proceeds going toward ongoing recovery in Tohoku. This year saw impressively high turnout as Mariners fans, the Japanese community of Seattle, and friends of PWA turned out to support the team and to keep a spotlight on tsunami recovery and rehabilitation in Japan.
Alongside partners in the Mariners, the Japan-America Society, Uwajimaya, the North American Post, and Soy Source, PWA helped plan and host a pre-game meet-and-greet reception at Ellis Pavilion at Safeco Field. This free event, sponsored by Delta Airlines, featured a running slideshow of past Japanese players on the Mariners and speakers that included Mariners club president Kevin Mather, Consul General of Japan Masahiro Omura, former JAS board chair Samuel Shepherd, Uwajimaya Chairman Tomio Moriguchi, Delta Airlines District Sales Manager Robert Bourrier, and PWA CEO Chuck Aanenson. President Mather and Consul General Omura both noted the strong support of the Japanese-American community of Seattle for the Mariners and thanked the reception attendees for their ongoing support for the victims of Tohoku.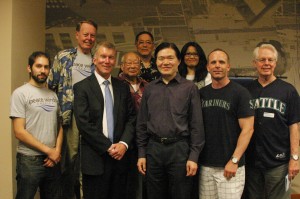 Fans coming to the reception and the game were greeted at the gates with a complimentary Hisashi Iwakuma bobblehead. Even more appropriate for Salute to Japanese Baseball night, Iwakuma pitched a dominant game, a 6-2 Seattle victory helped along by home runs from Kyle Seager and Robinson Cano.
Peace Winds America would like to thank the many supporters and fans who came together to remember the ongoing needs in Tohoku. Your help made Salute to Japanese Baseball Night a success and kept the spotlight where it belongs: on the fishing families of Miyagi Prefecture who still need assistance with livelihood recovery.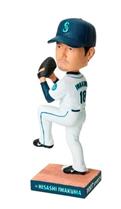 READ MORE > about Peace Winds' work in Tohoku.