Haiti Hurricane Matthew
On October 4th, 2016, Hurricane Matthew hit Haiti. Damages are immense in Torbeck which is still recovering from a devastating 2010 earthquake. Peace Winds arrived immediately following the hurricane and found that one-third of the population in District Four, an area of Torbeck, lost their homes, but received no assistance. Peace Winds focused on helping Hurricane Matthew victims in District Four by providing  shelters, building materials/tool kits, plus relief goods. Peace Winds now needs your help to repair school roofs and provide kits to students and teachers to revitalize the education system in Balix, a rural area of Haiti. Families have put their resources towards rebuilding homes, but safe schools need to be rebuilt too. Help us get children back in safe safe schools after Hurricane Matthew.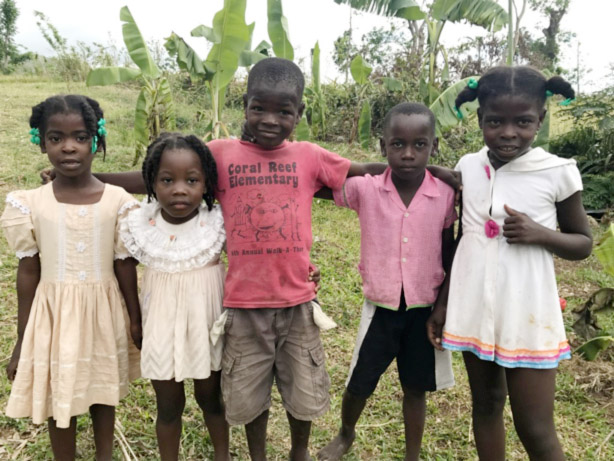 Situation
One-third of Haitian residents of "District Four" in Torbeck are without housing and living in make-shift shelters. They not only lost homes, but their livestock and farmlands were destroyed prior to harvest. The District Leader said, "We've lost the foundation of life. There were a few food distributions right after the hurricane, but it wasn't enough. Houses were destroyed and people are living in dangerous environments."
Solution
Working with the Mayor of Torbeck and the District Leader, Peace Winds will distributed emergency supplies including: blue sheets/tarps, building materials/tool kits, blankets, hygiene kits, and selected food items. Peace Winds targeted 500 households in District Four, and will expand its distribution with continued support.
Long Term Impact
Peace Winds plans to reach more of the under-served residents of District Four by distributing emergency supplies. Peace Winds will also provide reconstruction assistance, utilizing previous experience gained in its 2010 Haiti quake recovery project. This Peace Winds emergency assistance focuses on a region where relief and recovery are not being provided. Peace Winds will empower at-risk Haitians and assist in their recovery process.