PWA Presents to U.S. Army I Corps at Joint Base Lewis-McChord in Washington
October 29, 2015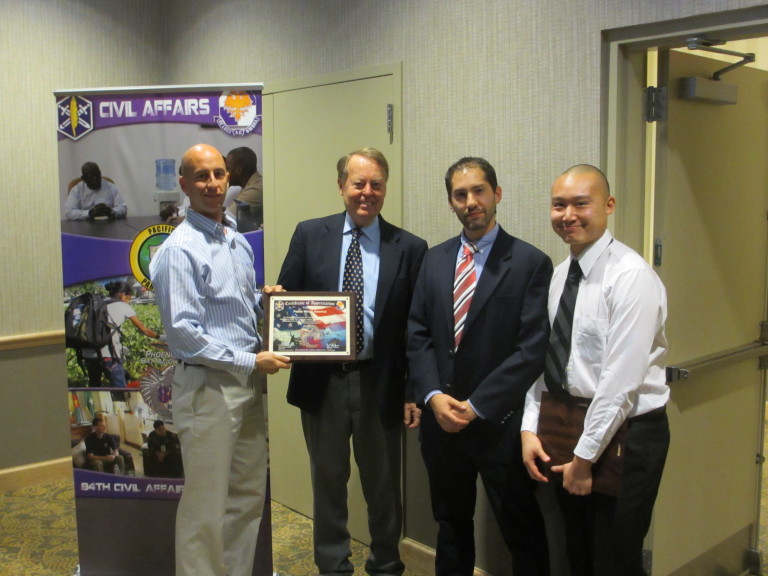 At the invitation of the U.S. Army I Corps 84th Civil Affairs Battalion, Peace Winds America joined colleagues from the U.S. and Philippine military, USAID, NGOs and the government of Japan to present at a two-day interagency seminar.  As part of the seminar's focus on, "Familiarization with US and Allied Government's International Aid & Assistance Programs in the PACOM Area," PWA delivered remarks to officers of the Civil Affairs Battalion.
Joining a colleague from the Japan International Cooperation Agency, PWA presented its perspectives on civil-military disaster relief in the Asia Pacific region. Leading off with a background of PWA and its disaster relief and preparedness activities, the I Corps officers were given a background on PWA civil-military programs. In particular, the presenters discussed lessons learned from Typhoon Haiyan and the Japan-U.S.-Philippine Initiative, as well as notable aspects of Japan-U.S. cooperation in disaster relief.
PWA is grateful to the 84th Civil Affairs Battalion for the invitation and for the opportunity of maintaining close ties with the U.S. military in the Puget Sound region.
READ MORE > about Peace Winds' Disaster Preparedness Initiative.