Search and Rescue Teams Arrive in Kyushu following Typhoon Nanmadol
July 7, 2017
Peace Winds Japan is responding in Kyushu, Japan, sending its search and rescue team to help victims after record heavy rains caused major landslides and deadly floods.
PWJ is working to rescue people in Asakura-City, Fukuoka, who were stranded by flooding after Typhoon Nanmadol hit Japan on July 4 and 5. The PWJ rescue team–consisting of eight crew members and two rescue dogs–was sent to the site July 6 to help with rescue efforts, joining over 11,000 other rescue workers dispatched to the affected areas. The team is also utilizing PWJ's amphibian trucks and helicopters to search for missing persons and to rescue survivors.
PWJ staff also visited the emergency evacuation center, where about 171 people were forced to flee their homes to escape flood damage. The death toll currently sits at 15, with 387,000 people in four prefectures in Kyushu affected.
PWJ disaster search and rescue operations have several years of experience under their belts (and leashes), with their services being used in 2014 after the Hiroshima landslides and in the typhoon-hit Philippines, as well as in 2015 after the Nepal earthquake.  The SAR crews were also dispatched more recently after the 2016 earthquakes in Kumamoto.
More updates to come on what further assistance Peace Winds will provide for those affected by Typhoon Nanmadol.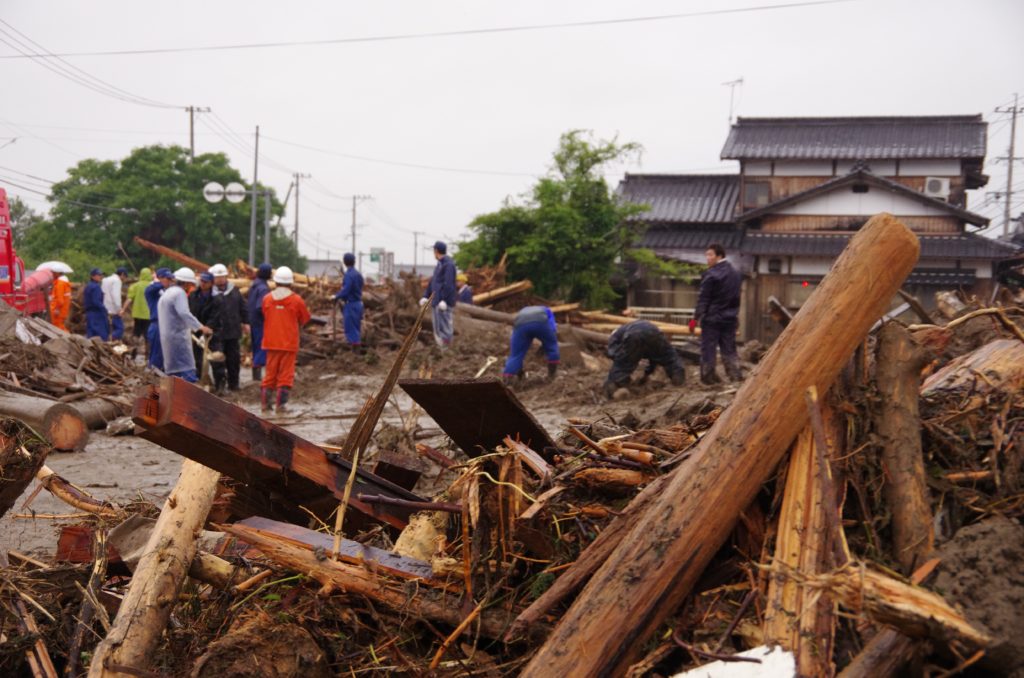 DONATE HERE> to help support Peace Winds' response in Kyushu.