Japan – U.S. Disaster Preparedness Initiative
Timeframe: 2011-2013
The 2011-2013 Japan-U.S. Disaster Preparedness Initiative targeted fortifying and operationalizing the U.S.-Japan Security Alliance to strengthen humanitarian assistance/disaster relief (HA/DR) in the Asia Pacific.
The U.S. and Japan are the two significant anchors in preparing and responding to disasters in the increasingly vulnerable Asia Pacific.  Over a period of 18 months, Peace Winds America trained over 200 participants representing government agencies, militaries, non-governmental organizations (NGOs), the private sector, as well as the multilateral organizations.
The recent history of side-by-side response to Asia Pacific disasters, particularly in the Great East Japan Earthquake and Tsunami, has clearly demonstrated that the Japan-U.S. alliance is strong when activated. Japan and the U.S. must continue to build upon their HA/DR capacities, honed in the Tohoku disaster, and upon their soft power to assist the Asia Pacific nations to be disaster prepared. Peace Winds America is confident that together Japan and the U.S. can serve the Asia Pacific and strengthen the Japan-U.S. alliance.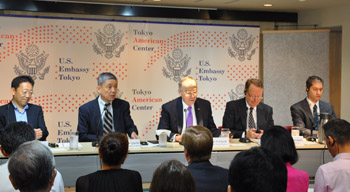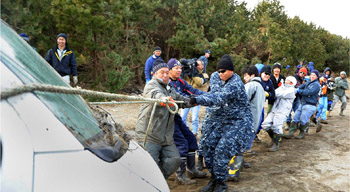 Strengthening the Alliance: HA/DR Preparedness in the Asia Pacific
Strengthening the Alliance: HA/DR Preparedness in the Asia Pacific is a product of the many elements of the Initiative: hands-on training workshops, senior policy forums, tabletop exercises, scholarly research, stakeholder interviews, and partner input.
The book addresses many of the most pressing questions in current humanitarian assistance / disaster relief practice in Asia:
How do Japan and the U.S. governments and militaries work together in response?
What lessons have emerged from the 2011 Great East Japan Earthquake and Tsunami?
What is the role of disaster cooperation in the future Japan-U.S. security alliance?
This PWA report addresses these questions and more, placing HA/DR in the context of wider issues of non-traditional security and the unique challenges facing East and Southeast Asia.
Scholars, disaster managers, and public policy decision-makers alike will find:
Analyses of past case studies, including the 2011 Tohoku tsunami, 2004 Indian Ocean Tsunami, 2008 Cyclone Nargis, and more.
Recommendations for future civil-military cooperation in disaster preparedness, "go/no-go" decision-making, response, and recovery
Discussion of HA/DR and Japan-U.S. bilateral agreements, and the role of non-government stakeholders in disaster preparedness, response and recovery
The role of HA/DR within the larger context of the Japan-U.S. alliance
Japanese language executive summary and concluding chapter for HA/DR managers and policy-makers in Japan
You can download this publication and related materials on our Publications Page.