Taiwan Disaster Preparedness Initiative
Timeframe: Present
Building upon successful initiatives in prior years in Japan and the Philippines, PWA is now beginning implementation of a disaster preparedness initiative focused on the inclusion of Taiwan.
Why Taiwan?
Taiwan is a natural partner due to its vulnerability to various disasters, geographic location, and its interest in providing cross-border assistance.
Objectives
strengthen Taiwan's domestic disaster preparedness, response, and "whole of society" coordination;
facilitate Taiwan's effective participation in providing cross-border humanitarian assistance and disaster response (HADR);
help Taiwan stakeholders build sustainable relationships with counterparts from the international community and others, such as the U.S., Japan, and the Philippines; and
save lives and reduce suffering caused by natural disasters in Taiwan and the Asia Pacific region.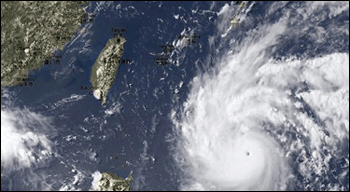 Domestic Preparedness and Response
The Initiative will first solidify Taiwan's disaster preparedness, response, and "whole of society" coordination at all levels. Taiwan, regularly affected by natural disasters, most notably typhoons, earthquakes, and landslides, aims to further strengthen domestic disaster response and coordination. Its geographic isolation and political environment make a strong, cohesive domestic response important to maintain political, economic, and social stability and domestic security.
Cross-Border Humanitarian Assistance and Disaster Response (HADR)
Taiwan is increasingly capable of assisting disaster prone nations and communities through its effective HADR. Taiwan's New Southbound Policy will strengthen its HADR to others in Asia and the Pacific. Already Taiwan has made notable contributions to overseas disasters such as the 2010 Haiti earthquake, 2011 Tsunami in Japan, 2013 Typhoon Haiyan in the Philippines, among others.
PWA welcomes the involvement of additional corporate partners and donors to implement this Initiative in Taiwan. If interested, please contact us.