Fishing Sheds Program Expands to 4 New Areas
September 1, 2013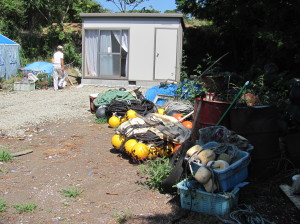 Since the summer of 2012, Peace Winds America has been working within the Udatsu District of Minamisanriku helping fishermen who lost so much in the 3/11 tsunami and earthquake.  For those who work with the sea, a workspace is needed to prepare for and operate during the fishing season.  PWA has focused on providing fishing sheds to those in most need after the disaster.
Beginning in the districts of Tomarihama and Baba-Nakayama, PWA quickly expanded the program to the devastated districts of  Tatehama and Niranohama.  With support from the Global Giving Foundation and individual donations, Peace Winds America has built 42 sheds in these four districts.  Your contributions played a critical part supporting over 100 fishing family members who have benefited from this project.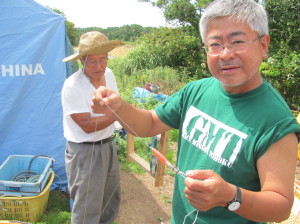 PWA acknowledges the importance of a shed to a fishing family.  To make sure the families had a place to work throughout fall, our local partner, Grace Mission Tohoku worked around the clock to build sheds before harsh winter hit the area.   Over the next two months, the sheds will support the wakame seaweed, oyster, octopus, manila clam and scallop seasons.
Fishermen and their families depend on these structures to help them restart the work that one sustained their families before the disaster.  Many fishermen still live in temporary housing, and do not have space for fishing equipment.  With the fishing shed, there is space to prepare the tools of the trade: nets, rigging, marine engine parts, octopus traps and scales.
Your contribution helps us rebuild livelihoods in northeast Japan.Fishing Sheds continue to be in high demand.   With we plan to build 40 new sheds in the Yoriki, Isatomae, Tanoura and Minato districts.  Peace Winds America works together with the leaders of the area's fishing cooperative to determine those most in need.   We continue to ask for your support of the Fishing Sheds project.
READ MORE > about Peace Winds' work in Tohoku.